Wouter Vossen, Violine
Wouter Vossen,
Violine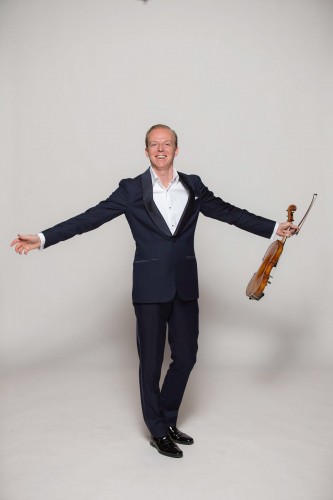 ©Mike Roelofs
Wouter wurde in eine Familie mit großer musikalischer Tradition hineingeboren. Er studierte in Amsterdam und Tel Aviv bei Hermann Krebbers und Chaim Taub und machte sein Examen mit höchster Auszeichnung. Er ist einer der führenden Musiker seiner Generation in den Niederlanden.
Er ist leidenschaftlich involviert in jede Facette des Violinspiels: als Solist, Kammermusiker, Konzertmeister und Lehrer.
Als Solist spielte er mit der Academy of St. Martin in the Fields, dem Münchner Kammerorchester, dem Sinfonieorchester Antwerpen und dem Philharmonischen Orchester Hong Kong unter Dirigenten wie Philippe Herreweghe, Edo de Waart und Jaap van Zweden.
Als Kammermusiker trat er auf mit Gidon Kremer, Jean Yves Thibaudet, Nicholas Altstaedt und vielen anderen.
Er ist der Geiger in dem bekannten Storioni Trio, mit dem er die ganze Welt bereist hat. Stationen waren u.a die Carnegie Hall, die Wigmore Hall und das Concertgebouw. Das Trio organisiert ein eigenes Festival in Eindhoven (NL) und wird zu zahlreichen Festivals eingeladen, wie z.B. Warschau, Kuhmo und Osnabrück. Das Trio ist spezialisiert auf Beethoven Trios sowie auf Triipelkonzerte von Beethoven, Casella, Martinu Vasks u.a.
Wouter ist Konzertmeister das Residentie Orchestra in Den Haag und war Gastkonzertmeister in vielen Orchestern der Welt.
Wouter Vossen spielt ein Storioni Violine (Cremona 1794) die Eigentum der Stiftung "Elise Mathilde Fonds" ist.
Wouter was born in a family with a large musical tradition. He studied in Amsterdam and Tel Aviv under the guidance of Herman Krebbers and Chaim Taub and graduated with highest distinction. He is one of the leading musicians of his generation of the Netherlands.
He is passionately involved in every facet of playing the violin; as a soloist, chamber musician, concertmaster and teacher.
As a soloist, he performed with the Academy of St. Martin in the Fields, the Munich Chamberorchestra, The Antwerp Symphony Orchestra and the Hong Kong Philharmonic Orchestra under conductors like; Philippe Herreweghe, Edo de Waart and Jaap van Zweden.
Wouter performed chamber music with Gidon Kremer, Jean Yves Thibaudet, Vadim Repin, Ray Chen, Nicholas Altstaedt and many others.
He is violinist of the renowned Storioni Trio (1995) and as such played the whole world over a.o. at Carnegie Hall, Wigmore Hall and the Concertgebouw. The Trio also organizes an annual Storioni Festival in Eindhoven (NL). The Storioni Trio was invited to perform in many festivals a.o. the Beethoven Festival Warsaw and the Kuhmo Festival Finland. The Trio specializes in the complete Beethoven trios as well as Triple concertos (Beethoven, Martinu, Casella, Vorisek, Aho, Vasks, Kancheli etc.)
Wouter is the concertmaster of the Residentie Orchestra (The Hague) and has been guest leader at many orchestras in the Netherlands and abroad. This season, he is also invited to lead/conduct programmes in Korea, Germany and Poland.
Wouter plays a wonderful violin made by Lorenzo Storioni (Cremona 1794), property of the Stichting Elise Mathilde Fonds.