Lauri Sallinen, Klarinette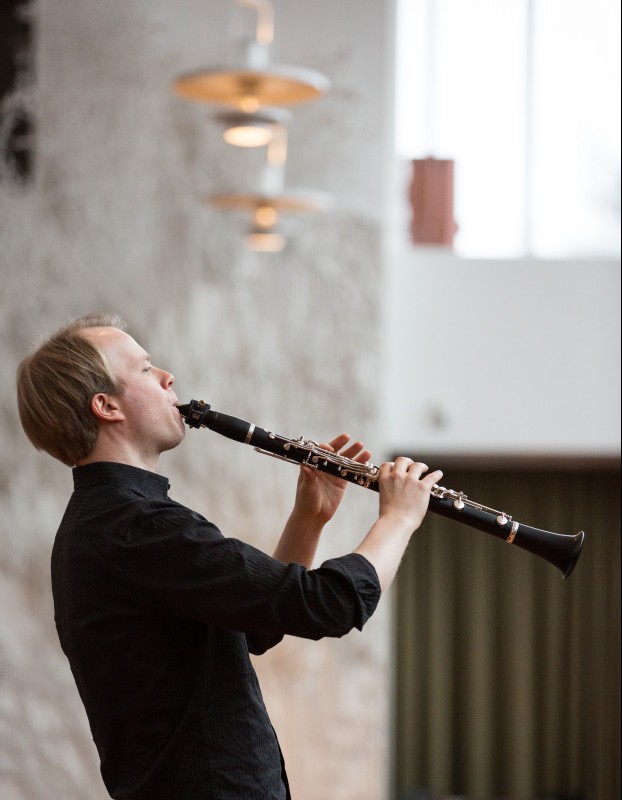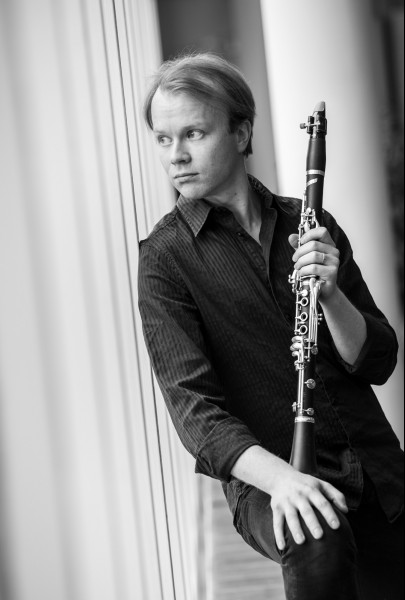 Fotos: Antti Hannuniemi
Lauri Sallinen ist ein vielseitiger Musiker der neben dem herkömmlichen klassischen Repertoire einen großen Schwerpunkt auf Zeitgenössische und Experimentelle Werke legt - er ist auch Komponist und Arrangeur.
Lauri ist Mitglied des bedeutendsten finnischen zeitgenössischen Ensembles Uusinta und des MikroEnsembles, ein auf mikrotonale Musik spezialisiertes Ensemble. Er ist ein aktiver Kammermusiker und wird als solcher von  zahlreichen internationalen Kammermusikfestivals regelmäßig gebucht, unter ihnen Kuhmo Chamber Music Festival, Carinthian Summer Music Festival in Australien und dem MATA Festival in den USA.  Auch als Solist ist Lauri ein gern gesehener Gast bei zahlreichen Orchestern - mit seinen eigenen Orchester-Projekten "spring bubbles" und "The land of a thousand tangos" tourt er als Solist, Musikalischer Leiter und Arrangeur.
Bei deinem Debut-Recital im Helsinki Music Center brachte Lauri zahlreiche Solo- und Kammermusikwerke von namhaften finnischen Komponisten zur Uraufführung - auch in anderen bedeutenden Konzertsälen gab Lauri bereits Soloabende - so in New York, Paris und Petroszavodzk.
Seine musikalische Ausbildung erhielt Sallinen an der Sibelius Academy bei Kari Kirche und François Benda, fortführende Studien führten ihn zu Charles Neidich an die Manhattan School of Music.
Das Bundesland Kainuu zeichnete ihn mit einem Kultur-Preis aus und im vergangenen Jahr erhielt er vom National Council of Music ein Jahresstipendium für sein künstlerisches Schaffen.
---------------------------------------------------------------------------------------------------------
Clarinetist Lauri Sallinen is known for his distinctive interpretations of both classical and modern repertoire. As a chamber musician he is one of the most sought-after clarinetists in Finland, and he frequently performs at the music festivals in Finland and Scandinavia. In addition to numerous Finnish chamber music festivals, such as Kuhmo Chamber Music, Time of Music and Our Festival, he has appeared e.g. at Classic con brio Festival in Osnabrück, Ultima Festival in Oslo and MATA Festival in New York.
As a soloist, Sallinen has performed with several orchestras – including Avanti! Chamber Orchestra, Lapland Chamber Orchestra, Joensuu City Orchestra and Saimaa Sinfonietta – performing world premieres of the clarinet concertos by Mikko Nisula and Markku Klami, as well as Finnish premieres of solo works by Enno Poppe and Benjamin Britten. Most recently he has toured  with his own orchestra projects, in which he acts as a soloist, conductor and music arranger.
A key element of Sallinen's musical personality is his close collaboration with contemporary composers. He performs actively contemporary music with Uusinta Ensemble (Helsinki), Ensemble Temporum (Oslo) and MikroEnsemble, which is specialized in micro-tonal music. He is also an artistic director of the Kaivos Festival 2017. At the moment he is most passionate about the performance side of music: he is currently working on a solo performance Solitude, in which a solo clarinet concert metamorphoses into a contemporary dance performance, by adding choreography, sound design and interactive video design.